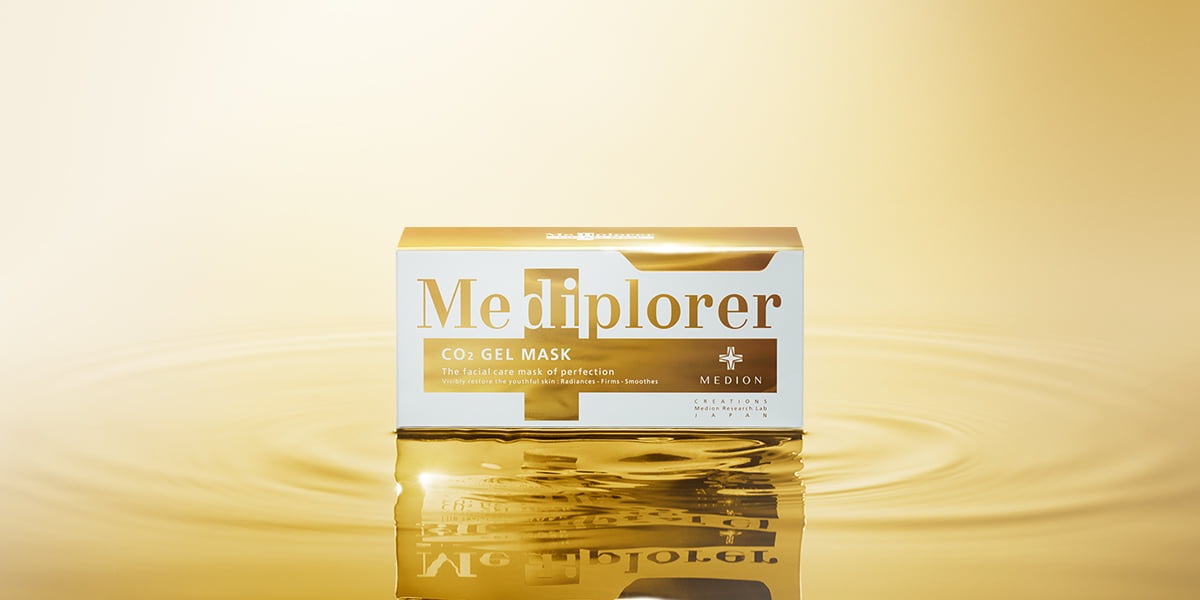 Mediplorer CO2 gel mask
6 pieces JPY 9,200 plus tax
Bring out the innate beauty of the skin to its full potential

Mediplorer, the pioneer of CO2 (carbonated) masks
A history born from a fortuitous coincidence
Carbonated mask was first introduced to the world in 1997.
Masato Hiki M.D., Ph.D. was researching medical treatment for patients suffering from bedsores, when he happened to discover that the carbonation effect tightens the skin and gives it a dewy luster.
This discovery gave birth to the carbonated mask.
Mediplorer CO2 Gel Mask is a facial mask that utilizes carbonated gas to deliver oxygen to the skin, which is what is most needed to promote the skin's turnover.
Its benefits are backed by universal understanding on biology and grounded on valid theories to offer reliable results to your skin.
You will find your skin imbued with renewed vitality.
Radiantly youthful skin
Skin that is luminous, with a supple resilience and a smooth and fine texture.
The original formula, created by focusing on the skin's turnover cycle, will help you attain skin that glows from within.
Resveratrol

A type of polyphenol, this is an anti-aging ingredient that helps make the skin youthful and healthy.

Acetyl glucosamine

A natural type of amino acid, it conditions the skin to make it supple from within, giving it moisture and a tight, smooth look.

Ceramide complex

This ingredient is highly effective in moisturizing the skin. It plumps up the skin by giving it ample moisture.

Fucoidan

Extracted from natural seaweed (Nemacystus decipiens), this is a moisturizing agent that has outstanding moisture retention.

Vitamin E

This is an ingredient that has high anti-oxidant properties, and is known to protect the skin's barrier function.

Acetyl
hydroxyproline

This is an amino acid derivative that has outstanding skin-care effect. It gives the skin a bouncy resilience and a lustrous glow.
How to use
Start by giving your skin concentrated care over a period of 6 days to restore your skin's turnover.
After this, use the mask 1 to 3 times per week depending on the condition of your skin and in accordance to your preference.
Cleanse and wash your face before applying the mask.

Open the entire content of one gel pack and one powder pack, and mix it well using the spatula.

(Use the gel and powder immediately after opening the pack.)

Apply the gel in a thick layer, as if you are gently placing it on top of your skin.


(Use all of the gel in the container in one application.)

Leave the mask on for about 20 to 30 minutes, and remove most of the gel from your face using the spatula.

Wipe off the remaining gel with a wet towel, or gently rinse off with warm water. Make sure to remove the gel completely.